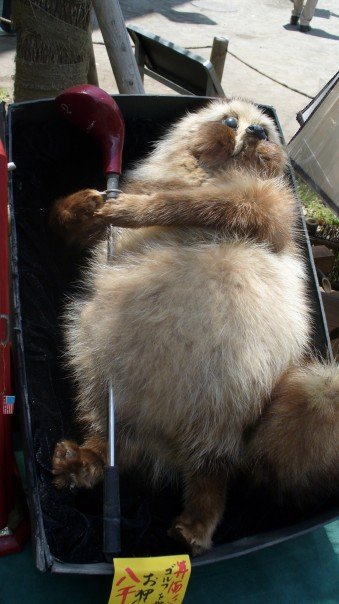 Japan
Yokohama
Didn't spend much time here, but there is a lot to do in Yokohama/Tokyo, so here goes. First off, start at one of the two Seaman's centers, both are cool, both are nice and quiet. The one nearest the Maersk docks is just along the side of the road, they've got a nice little place there with a nice little gift shop and pool tables and a little give-one/take-one library and they'll change money for free... there's just not much around the place. The other is a Seafarer's center, and is a little more upscale, and right downtown, next to Chinatown. They've got a nice little bar and internet and phones and grub if you're into that kind of thing. Not only that, but if you ask the right way, they'll give you a free ride back to your ship. Right downstairs is a nice little Chinese restaurant where they don't speak any English, but the menu is all in pictures and the grub's pretty good. The little water in glasses they give you that doesn't look quite right... isn't water, it's a bit of authentic green tea, and it's pretty good. I'd recommend the noodles in this place. Below this place is a little Hawaiian joint that's pretty nice. Cozy little bar and a nice atmosphere, but their Oreo Pie isn't quite what you'd expect. I don't know that there was anything Oreo about it, it was more of a cheesecake covered with fruit syrups, pineapple pieces, and for some reason, corn flakes. But really, it was pretty good.
As for things to do around town, I'd recommend a quick walk around and through Chinatown, it's kinda cool, and from there you can walk down to the local ballfield and see the Bay Stars play if you time it right. In late May they hold a harbor festival and have a bazaar all the way around the stadium with vendors and food stands and live bands. They'll offer free samples, but beware, Freddy nabbed what he thought was a meatball, turned out to be a pickled plum, that was not fun and definitely lingered. Also right around downtown you can take a ride up to the top story of the tallest building in Japan, though it'll cost you around $10. By the way, I haven't yet mentioned that Japan's an expensive place, yeah, it is, a minimum of $5 for a beer, shirts are at least $30, but you can find deals. Try some gyoza from a street vendor, they're wonton/dumpling type things and are really good, and can be fairly cheap.
Other things to hit up: Yokohama Zoo, didn't make it there, ran out of time; Maritime Museums; amusement park; hit up Tokyo, it's not that far. A fun place with enough time and money.

Kobe
Spent even less time here, but there's some stuff to see. With enough time, Universal Studios Japan is somewhere around here. Otherwise, downtown there's a lot of shopping and a fashion museum. Downtown, next to the local McDonald's is a cool little restaurant with good, cheap food and big beers. Went there twice, good food each time.

Drinks
Beer: Asahi is a winner, big servings, good flavor. Can't go wrong with Sapporo either.
Sake: Never had a chance to try it, but it's Japan, you've at least got to have a quick glass.
Green Tea: Would definitely recommend trying some of the bottled green teas, they're cheap and good,
South Korea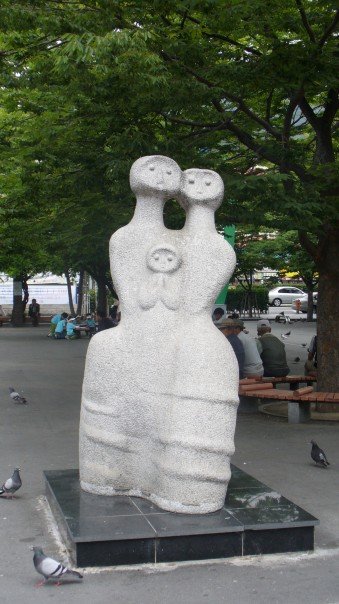 Busan
This place is either called Busan or Pusan, depending on where you see it, dunno which it correcter. But yeah, lots of fun to be had here. First of all, start on Texas Street. Bars and Russian hookers abound, making this place fun all day long. Yeah, I guess all the hookers are Russian because there is/was a Russian navy base around there somewhere. But they take American dollars at most of the bars, and will change your money if you need them to.
From there head over to the international market, where, though not as cheaply as China, you can find absolutely anything you want, from purses to sunglasses to electric bilge pumps, absolutely anything. A big open air market, this place is pretty cool just to wander around. Heads up when you get to the food section though, most of the grub is still wriggling a bit. Yeah, they've got fishes and sea slugs and all kinds of things I've never seen before, especially not as food, and the guys with blow torches are burning the little hairs off of the pigs' heads, where the rest of the pig ended up is still a mystery.
Within walking distance of the international market is a trendier fashion district with lots of American shops and a little European flavor as well. If you're looking for authentic Asian stuff though, get out of Asia, you won't find that stuff here. Somewhere around there too is Film Street, where the Busan International Film Festival is held.
If you're not into shopping or anything, there's a nice little park up on top of a hill in the area right around the international market. At the top of the hill, there's a bell tower and statues and what could have been some kind of shrine, it was cool.

Drinks
Not so sure, I had a whiskey coke, but I don't know what the local specialty is. Max beer isn't great, but it's there, and it works.
China
Shanghai
So, apart from the dinginess and general creepiness, Shanghai at least tries to be a nice town. Downtown the buildings are well designed and gorgeous in a modern/futuristic kind of way. Really the whole town seems to be designed by a comic book artist, with strange little statues and odd architecture all around. But behind this wealthy facade seems to be an underlying unhappiness in the people you meet. So there's that. But there is still a bit to do, even though almost nobody speaks English. If you ask a cabbie to hit up downtown Shanghai, you'll find that it's about a half hour drive from the docks, and if you don't speak Chinese, it's only maybe worth it. They've got a nice little shopping strip, but just off the strip you're right in the slums again. If you want cheap DVD's, head for the DVD Bar... it's literally a bar with a dvd shop underneath. Most DVDs are a buck apiece, though for DVD-9 (a little higher quality) they'll charge you $2. For some real gritty, cheap, need-to-shower-afterward shopping, head to the Shanghai Technology Museum. Didn't go inside though it looked neat, but just in front of it is a huge underground shopping area, kind of like a Tiajuana bazaar with actual storefronts. But seriously, anything you could ever want, $20. Leather jackets - $20. "iPods" (not real but still work) - $20. Computer software (Norton Systemworks, Windows Vista, etc.) - $20. But watch out, the shop owners are vicious and tricky. If you want a purse, like Gucci or Prada, you can get them cheap, but if they take you into a back room to look at what they have, watch for them to shut the door behind you, sometimes they'll have magnetic seals, which is really kind of freaky. And the vendors are kind of pushy, literally dragging you into their shops. But there are deals to be had if you're patient; the best trick to dropping the price, quote them a third of what they tell you the price is and if they don't want to go that low, walk away, they'll drag you back and give it to you.

Ningbo
Don't know much about this place, was only dragged (literally) ashore by immigration long enough to be let into the country and have my passport stamped... at three in the morning. Fun stuff.

Drinks
Beer: Suntory, 40oz for 50 cents... very nice.